The ACCELERO project embarks on a journey to balance the innovation landscape in Europe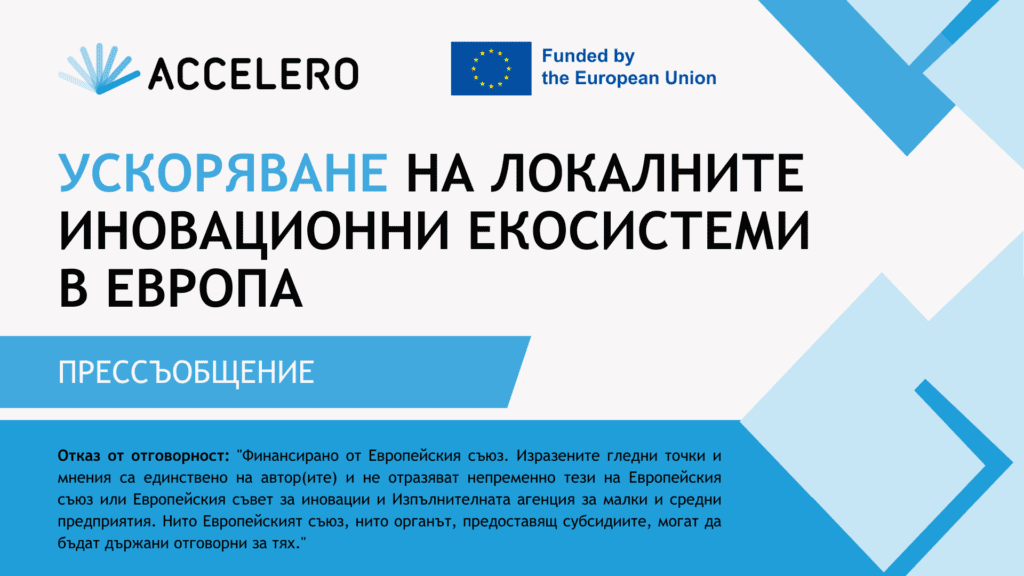 Embarking on a mission to promote innovation and entrepreneurship across Europe's diverse landscape, the ACCELERO project is poised to support balanced growth.
EUROPE – ACCELERO, a key initiative aimed at harnessing Europe's diverse innovation landscape, is now underway. Driven by the vision to create a balanced European innovation ecosystem, ACCELERO is diligently striving to address the challenges in our dynamic innovation ecosystem.
Despite significant improvements in overall achievements – a commendable increase of 12.5% over the last eight years – the disparities in innovation maturity between Member States highlight the need for balanced development. ACCELERO addresses this by focusing on offering reliable support for entrepreneurship and business building.
"ACCELERO aims to contribute to changing the unbalanced business activity in Europe by making innovation ecosystems more attractive to local startups outside the established and well-known centers," said a representative of the project's leading partners. ACCELERO's mission also extends to fostering a well-functioning local business environment, which is essential for sustainable growth in today's competitive, technology-driven world.
The ACCELERO Consortium: Working towards a Balanced Innovation Ecosystem
The ACCELERO consortium is a collaboration between organizations from 6 EU countries: Portugal, Belgium, France, Bulgaria and Poland, which share values and aspirations for a more balanced European innovation ecosystem. Under the leadership of EurA PT and with the support of respected organizations such as EBN, Bwcon, BIC Innobridge, Bpifrance and Krakow Technology Park (KTP), ACCELERO gathers a wealth of experience and expertise. These entities are united in commitment and shared values, working tirelessly to promote and facilitate knowledge transfer from leading to moderate and emerging innovation regions. These coordinated efforts are essential to the mission of the project and the achievement of its goals.
Introducing Local Ecosystem Builders
As part of the ACCELERO strategy, a diverse set of Local Ecosystem Builders (LEBs) has been selected from across Europe. These organizations contribute to ACCELERO's enriching framework with their unique insights, strengths and capabilities, striving towards our shared mission of creating a more balanced innovation ecosystem.
Selected LEBs include:
The Adam Mickiewicz University Foundation / Poznan Science and Technology Park (PPNT) in Poland, a pioneer in promoting innovation and cooperation between science and industry.
Fundecyt-PCTEX, a Spanish organization facilitating the exchange of knowledge, science and technology for the intelligent, sustainable and inclusive development of Extremadura.
İzmir Technology Development Zone (Teknopark İzmir) in Turkey, a leader in innovation and technology development, contributing to Turkey's economy.
Fonduri-structurale.ro / consolid8 in Romania, known for its strong support network for startups and SMEs and Romania's first AI-based funding identification tool.
Kielce Technology Park in Poland, a center for innovation and creativity serving young companies, established businesses and the SME sector.
The Foundation for Supporting Youth Entrepreneurship (YES Foundation) in North Macedonia, known for promoting the development of entrepreneurship and increasing youth employment.
Go-Up e-business incubator in Bulgaria, which aims to accelerate smart growth in Europe by supporting various entrepreneurial ventures.
Creacció – Agència d'Emprenedoria, Innovación i Coneixement SL in Spain, an agency for entrepreneurship, innovation and knowledge focused on increasing the competitiveness of companies.
The entrepreneurial center of Krapina-Zagorie counties in the Republic of Croatia, supporting the creation of a sustainable, innovative and competitive economy.
Instituto Pedro Nunes (IPN) in Portugal, a leading organization for the promotion of innovation and technology transfer, connecting the scientific and technological environment with the business sector.
These organizations are the core of the ACCELERO community. Their main goal is to provide a space to exchange best practices and create new acceleration services with the support of experts from leading innovation regions. For more detailed information and updates, follow the ACCELERO project on social media.
For media inquiries, please contact info@innobridge.org.
About ACCELERO: ACCELERO, a transformative project at the forefront of entrepreneurship and business building in the member states of the European Union. The initiative focuses on harnessing the unique potential of each region by promoting joint strategies to create a more balanced and inclusive European innovation ecosystem.
This significant undertaking is financed by the European Union. However, it is important to note that the views and opinions expressed within ACCELERO are solely those of the authors and do not necessarily reflect those of the European Union or the European Council's Executive Agency for Innovation and SMEs. Neither the European Union nor the granting organization can be held responsible for them.