Introducing the Second Issue of the ACCELERO Project Newsletter: Driving European Innovation Forward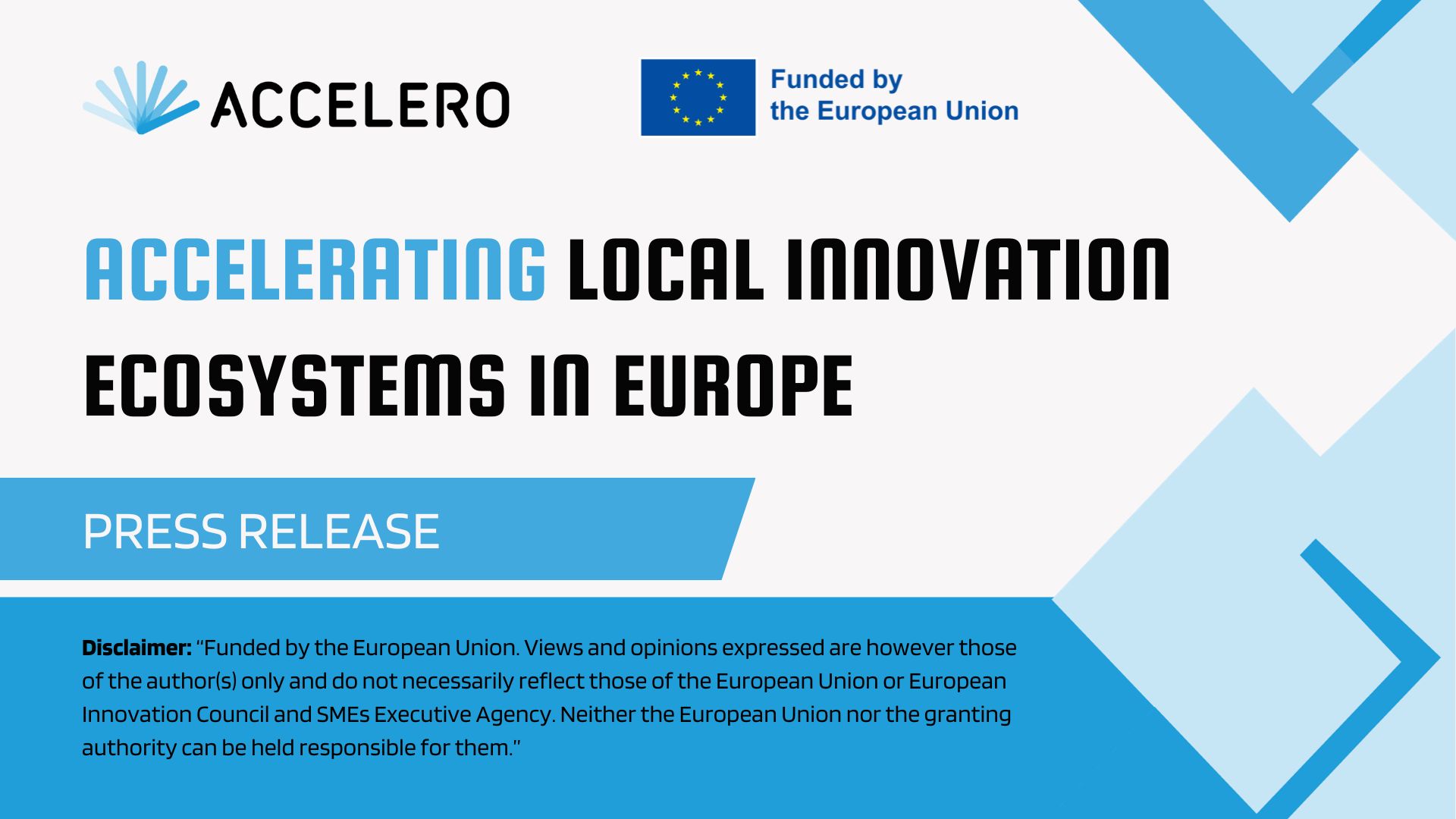 ACCELERO Revisited: Our Continued Mission for Innovation Equality
Welcome back to the second issue of the ACCELERO Project newsletter! For both our seasoned followers and newcomers, let's delve deeper into the essence of the ACCELERO Project. We continue to act as a catalyst in the evolving European innovation ecosystem, striving to level the playing field and amplify opportunities. Our mission is as relevant today as it was at inception, and we're excited to share our latest milestones with you.
Reflecting on a Milestone in Innovation and Collaboration
We recently wrapped up a groundbreaking 5-day Co-Creation Design Sprint, which proved to be a melting pot for collaborative innovation. The outcomes exceeded our expectations, yielding not just promising prototypes but also fostering a spirit of collective problem-solving. This event sets the tone for future collaborations and paves the way for actionable solutions in addressing identified challenges.
Spotlight: ACCELERO's Local Ecosystem Builders & European Hubs
We have some incredibly dedicated Local Ecosystem Builders and European Hubs supporting our initiatives. These organizations bring diverse competencies to the table and significantly enhance the value we collectively provide to Europe's innovation landscape. They are the bedrock upon which our collective efforts for a balanced European innovation environment are built.
ACCELERO's Journey Forward: Insights from Krakow Meeting
Our recent consortium meeting in Krakow was more than just a series of workshops; it was a think tank of innovative minds discussing effective and ethical acceleration services. The sessions were valuable not just for knowledge sharing but also for laying the groundwork for future pilot programs. These discussions were instrumental in shaping our strategy for the months ahead.
A Spotlight on EuroQuity: An Essential Tool for the ACCELERO Ecosystem
We're delighted to introduce the revamped EuroQuity platform. This updated tool offers streamlined navigation, user-friendly design, and enhanced search functionalities. EuroQuity serves as a linchpin connecting various stakeholders in the ACCELERO network, making interactions more efficient and meaningful.
ACCELERO Consortium: The Power Behind European Innovation
Our consortium remains the sturdy backbone of the ACCELERO mission. Comprising organizations with diverse strengths, the consortium is more than just a sum of its parts. Together, we're redefining what it means to foster an inclusive and effective innovation ecosystem in Europe.
ACCELERO Project: Upcoming Milestones and Activities
Our forthcoming activities are aimed at further enriching the European innovation landscape. From piloting programs in emerging regions to hosting workshops that aim to tackle stakeholder engagement and ecosystem development, our calendar is bustling with initiatives that promise to bring significant impact.
EBN Techcamp 2023: In Partnership with ACCELERO
Don't miss the upcoming EBN Techcamp 2023! Designed to be a hub of cutting-edge ideas and discussions, this event promises to offer fresh perspectives on technology and innovation. As an ACCELERO partner, the event will reflect the project's ethos, providing a platform for meaningful discourse and action.
Download the Full Newsletter
For a more comprehensive overview and in-depth insights into each topic, don't miss out on reading the complete second issue of the ACCELERO Project newsletter.
About the project